Increase Your Business with Us
For Quotes or Rates: Call 800-555-5453, 310-371-5444 or ad@healthylife.net
Our Loyal Listeners are affluent, intelligent with higher disposable income and are willing to pay for a product they believe in and encourage family/ friends to buy products they like. They are interested in natural health, sports & fitness, family, pets, lifestyle, business and community, personal growth, spirituality, sustainability, the environment, culture and social justice.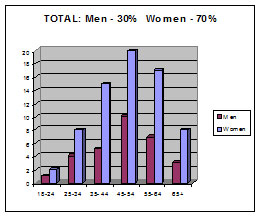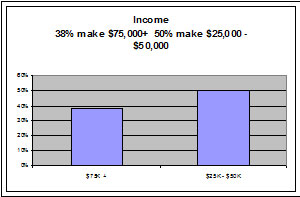 Statistics from actual data derived from our Listener Clubhouse
More Listeners on HealthyLife.net: By independent 3rd Party analysis we have higher Active Live Sessions, On-demand and Podcast downloads than most individual digital AM/FM/Satellite stations. - Triton Digital, EarthChannel, HealthyLife.net Radio Network Statistics
Get 65+ Additional Distribution Channels for FREE:
HealthyLife.net Radio Network is syndicated and simulcast 24/7 on over 65+ distribution channels aired on: Cars, Internet, Tablets, Smartphones,Wifi, SmartTVs, SmartWatches, mobile, private radio networks for the blind, retail stores and more. Click for some of our distribution channels
Our Top 'Expand Your Brand' Benefits Include:
Local, National and Global Brand Awareness
Increased Website Visits
Online purchases of products/services;
In-store product recognition/purchase
Increased customer email/social media interaction.
Why Brand on HealthyLife.net Radio?
Operating since 2002 we have longevity and a larger, loyal listener base
Longer 'drive time' from 5am - 6pm weekdays
Over 40 recognized celebrity hosts in all genres
Target or simultaneous reach of local, national or global audiences
Includes over 65+ syndicated/simulcast distribution channels
FREE On-Demand and Podcast Downloads during Campaign
3 month On-Demand and Podcast Downloads Shelf Life AFTER campaign is over
Niche market for positive talk, healthy living and ONLY Natural Health.
Customized branding to fit YOUR needs and budget.
Free production, your copy or ours, with fast turnaround
We use professional Hollywood-based voice over talent
It's Easy! Some Ways to Brand...
BRAND PLACEMENT:
Easy 'Halo' Effect
Be identified with an influencer HRN host and expand your impression to their loyal audience. As an elite 'one of three' you'll align your 250 X 60 pixel .jpeg click-thru banner direct on their HRN podcast page. 3 mo. minimum.
Banner-Link Placement
Your brand's click-through banner (120 X 60 pixel or 100 X 100 pixel) goes on our advertiser page and our Links page to gain your brand's awareness to our loyal audience. 3 mo. minimum.
BRANDED SLATE:
Pre-Show Title Roll
Set the stage for the HRN show with a custom branded 10 sec audio title and sound byte that appears in the premium position before the beginning of the show with standard 'presented by' intro.
13 week minimum.

TARGET BRANDING:
Genre Geo-Targeting
Target your brand to one of our genre specific markets to maximize impressions on all shows in the same genre. Genres: Natural Health, Lifestyle, South Bay Saturdays, News-Business, Inspiration-Motivation, Spirituality-Paranormal. Copy & voice provided for a 30-sec audio. 13 week minimum.
BRANDED SPLASH:
Short Term Maximum Reach
Reach almost all of HRN's unique listeners in a short term 3 day period. With a produced 30 sec audio we immerse your brand in the HRN experience to splash out your brand's impression in every hour of HRN's program schedule. 3 day minimum.
BRANDING BLITZ:
'Big 6' Exposure
A customized, integrated and full digital opportunity experience that leverages your brand on all of HRN's digital and audio assets to maximize your brand's exposure and success. Includes: Host mentions, produced audio, e-mail blasts, in-show interviews, click through banners and social media mentions. 13 week minimum.

BRAND SPOTLIGHT:
Event or Seasonal Impact
Align your brand with the latest episodes of our audience favorite shows and achieve brand impact as you deliver popup audio for any season promo, theater release, TV, YouTube or gaming video, workshops or any event. 13 week minimum.

Production time: 5-7 Business Days after approval

For Custom Brand Package or Rates:
Call 800-555-5453, 310-371-5444 or ad@healthylife.net