Kindred Spirits
w/ Vicki Dobbs
9 am PT, 12 pm ET
4th Tuesday Every Month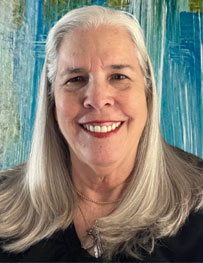 Vicki Dobbs
Vicki delivers ancient wisdom for today's seeker using shamanic and creative perspectives designed to push you out of your comfort zone into your authentic truth. Her goal is to see everyone walk in beauty and balance every day of their lives empowered by the voice of their own authentic truth.
Her experience includes being trained in the Harner Method of Shamanic Counseling and the Pachakuti Mesa Tradition of Cross Cultural Shamanism. She is a Graduate Teacher and Mentor with the Lynn Andrews Center For Sacred Arts and Training and has been the Administrator and Writers Guide for Writing Spirit.As an Elder, Teacher and Entrepreneur, Spiritual Coach, Ordained Minister, Crafter of Sacred Art and Tools and award winnibg author Vicki perceives life's journey as an ever-upward spiraling ascension of the human spirit.
Need Broadcast Help?
Click here if you have trouble listening to a broadcast.
To listen on-demand or podcast CLICK on the Show. For on-demand: Player automatically appears.
For Podcast download: right click on the Player and from the drop down menu select 'Save Audio As'
10/24/2023 (Pending) Jenna Lynne Roberts - tarot
09/26/2023 Edward Tick - Soul Medicine
08/22/2023 Anjel B Hartwell - Wickedly Smart Women
07/25/2023 Nicholas Pearson
06/27/2023 Linda Mackenzie - Symbols of You
05/23/2023 Dr. Donna Marks - Exit the Maze of Addiction
04/25/2023 Bernard Beitman MD - Meaningful Coincidences
03/28/2023 Kelly Sullivan Walden - A Crisis it a terrible thing to waste
02/28/2023 Carrie Hart - Sojourner in Ataquay
01/24/2023 Melissa Pearce - What the Heck Is Gestalt
CATCH LYNN'S PODCASTS AD FREE at HRNradio.com
Email: VIcki@VickiDobbs.com Web Site: www.VickiDobbs.com
To link to this page or send a copy of this page to a friend copy and use this link:
https://www.healthylife.net/RadioShow/archiveKS.htm